Description
15 LB. HARVEST Lug information :
Preferred harvesting lug for "Fresh Market" of Blueberries, Blackberries, Raspberries, Mushrooms, etc.
• Stackable and nestable 180° turn
• Name and/or logo may be hot stamped on one or both ends
• Sides and bottom are reinforced for added strength and rigidity
• U.V. stabilizer is available to aid in preventing deterioration of plastic
• Freezer safe
• 100% recyclable
Materials:            • Food grade high density polyethylene
Dimensions:      • 16 x 24 x 2.5 inches (OD)
Can nest with 30lb and 20lb lugs for easy storage.
Replaces the Berry Trays. Berry Trays only stack. Our 15 lb lugs will stack and nest.  Nesting allows more to be shipped in less space and less storage space.
Nested and Stacked 15lb Lugs compared to Stacked Trays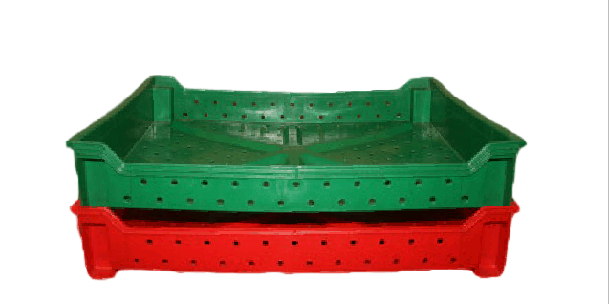 Weight:    • 2 lbs
Load Capacity:  • Up to 15 lb
Color:       • House colors or custom colors available upon request
Shipping:
• 350 per pallet
• 12,000 nested in 53′ trailer
• 15,000 hand loaded without pallets
Blueberry, Raspberry, Aronia berry, Haskap berry, honeyberry, Mushroom, Vineyard,etc   berry picking tray